Tomáš Řehořek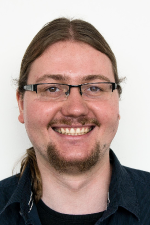 Homepage at FIT CTU in Prague
Ing. Tomáš Řehořek, Ph.D.
E-mail: tomas[dot]rehorek(at)fit[dot]cvut[dot]cz
Professional interests:

Recommender Systems, Artificial Intelligence, Research
Machine Learning, Deep Learning, Evolutionary Computation
Management, Lecturing, Software Development
SQL, Python, Java, JavaScript

CTO, Co-founder at Recombee
Assistant Lecturer at FIT CTU in Prague
BI-ZMA: Elements of Calculus, Winter 2011
BI-TED: Electronic Documentation Design, Summer 2012
BI-EFA: Efficient Algorithms, Winter 2012
MI-MVI: Computational Intelligence Methods, Winter 2012
BI-ZUM: Artificial Intelligence Fundamentals (lectures and seminars)

Summer 2013,
Summer 2014,
Summer 2015,
Summer 2016,
Summer 2017
Projects
Publications
Rehorek, T., Biza, O., Bartyzal, R., Kordik, P., Povalyaev, I., Podsztavek, O.: Comparing offline and online evaluation results of recommender systems (PDF). REVEAL 2018, a RecSys 2018 workshop.
Kuznetsov, S., Kordik, P., Rehorek, T., Dvorak, J., Kroha, P.: Reducing cold start problems in educational recommender systems. 2016 International Joint Conference on Neural Networks (IJCNN), Vancouver, BC, pp. 3143-3149.
Rehorek, T., Kordik, P.: A Soft Computing Approach to Knowledge Flow Synthesis and Optimization. In Soft Computing Models in Industrial and Environmental Applications, Vol. 188, Springer Berlin Heidelberg, ISBN 978-3-642-32922-7.
Rehorek, T., Kordik, P.: Using Interactive Evolution for Exploratory Data Analysis (PDF). In Proceedings of the 6th International Scientific and Technical Conference (CSIT'2011), Lviv, UA, LPNU, 2011, pp. 131--135, ISBN 978-966-2191-04-2.
Theses Supervised
2019
Radek Bartyzal: Deep Latent Factor Models for Recommender Systems (Master's Thesis, in progress)
2018
Petr Kasalický: Content-Based Recommendation Model Trained Using Interaction Similarity (Bachelor's Thesis, received Dean's award)
Ladislav Martínek: Evaluation of Local Sensitive Hashing (LSH) Algorithm in Recommender Systems (Bachelor's Thesis, received Dean's award)
Martin Pavlíček: Recommendation Models Based on Images (Bachelor's Thesis)
2017
Michal Bajer: Framework for evaluation of frequent sequences algorithms in Recommender Systems (Bachelor's Thesis, received Dean's award)
2016
Filip Křesťan: Evaluation of Distributed Database Systems in Context of Personalized Recommendation (Bachelor's Thesis, received Dean's award)
Michal Režnický: Design and Implementation of Feature Selection Module in Recommender System (Bachelor's Thesis)
Tomáš Richtr: Evaluation of Matrix Factorization Algorithms in Collaborative Filtering (Master's Thesis)
2014
Martin Barus: Content Recommendation using Text Mining Methods (Bachelor's Thesis)
Tomáš Fedor: Recommender System for Online Gaming Discount Portal (Bachelor's Thesis, received Dean's award)
Tomáš Frýda: Comparison of Different Neuroevolution Algorithms on Several Problem Domains (Bachelor's Thesis)
Martin Hak: Comparison of Various Success Measures in Collaborative Filtering (Bachelor's Thesis)
Tomáš Richtr: Advanced Gradient Optimization Methods of Artificial Neural Networks in RapidMiner 5 (Bachelor's Thesis, received Dean's award)
David Šenkýř: Interactive Geometric Sketchpad for Web Client (Bachelor's Thesis)
2013
Michal Kvasnička: Vector Graphics Editor for Web Client (Bachelor's Thesis)
Jakub Melezínek: Web Environment for Algorithms on Binary Trees (Bachelor's Thesis, link, received Dean's award)
Jakub Pištěk: Analysis of Collaborative Filtering Algorithms on Multimedial Data (Master's Thesis)
Vít Steklý: Tool for Analysis of Artificial Neural Networks (Bachelor's Thesis)
David Šolc: Web Framework for Stepping and Visualization of Algorithms (Bachelor's Thesis)
Radmir Usmanov: Client-Server Application for Two Player Games using WebSocket (Bachelors's Thesis)